Squint Surgery Cost in India – Also known as strabismus, squint eye is quite a common problem in toddlers and people in India, especially in Punjab. It usually happens when the eyes do not align problems and have vision issues like short-sightedness. The squint surgery cost in India depends on various factors like the type of squints – Esotropia, Exotropia, Hypertropia, and Hypotropia. This also means selecting from recession and resection surgery or a combination of both. A genuine eye doctor can help you deduce the right treatment without compromising your vision.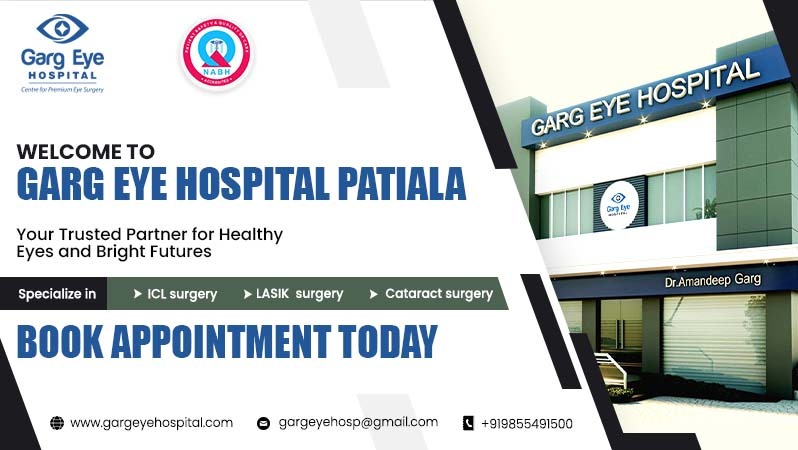 How Much Does Squint Eye Surgery Cost in India?
The eye treatment charges for squint can vary anywhere from INR 30,000 to INR 1 00,000. This will always be dependent upon the selection of your hospital, location, and treatment factors. For patients with serious health conditions like diabetes or complicated vision issues, squint surgeries can be costly. These treatments are safe and have long-term results. So, you do not have to worry about the outcome. Choose a good eye doctor having years of experience as this is a question of your vision. In Punjab, the cost of squint eye treatment is most affordable going around INR 30,000 to INR 50,000. Garg Eye Hospital is one such name that you can contact for squint eye treatments at affordable prices. They are the best eye hospital in Punjab.
About – Squint Eyes
Squint, also known as strabismus, is a condition where the eyes are misaligned and point in different directions. It can be present from birth or develop later. The muscles controlling eye movement might not work properly, causing one eye to look straight while the other turns inward, outward, upward, or downward. This misalignment can lead to double vision or amblyopia (lazy eye) if untreated. Treatment includes corrective lenses, eye exercises, or surgery to align the eyes and improve vision. Early detection and intervention are crucial for effective management and to prevent complications.
Squint Eye Surgery Age Limit
Squint eye surgery, or strabismus surgery, has no strict age limit. It can be performed at any age, from infancy to adulthood. However, the timing often depends on the severity of the squint and the individual's overall health. In children, surgery is typically considered once the eyes have stabilized in alignment, usually around age 4 or older. Early intervention in childhood is common to prevent amblyopia (lazy eye) and aid proper vision development. In adults, surgery may be done to improve alignment and alleviate double vision or for cosmetic reasons. A thorough evaluation by an ophthalmologist helps determine the appropriate timing.
Types of Squint Eye
Esotropia: Inward deviation of one or both eyes, often seen in childhood, causing a "cross-eyed" appearance.
Exotropia: Outward deviation of one or both eyes, common in childhood and might cause a "wall-eyed" appearance.
Hypertropia: Vertical misalignment where one eye is higher than the other, leading to an upward gaze difference.
Hypotropia: Vertical misalignment where one eye is lower than the other, resulting in a downward gaze difference.
Cyclotropia: Torsional misalignment causes the eyes to rotate, affecting their alignment and creating a tilted vision.
Which Eye Surgery To Treat Squint Effectively?
The most effective surgical treatment for squint, or strabismus, is typically a procedure called strabismus surgery. During this surgery, the ophthalmologist adjusts the eye muscles' tension and alignment to correct the misalignment and improve eye coordination. The surgeon may weaken or strengthen specific muscles to achieve proper alignment. This surgery is often performed under general anesthesia, and the specific approach depends on the type and severity of the squint. Successful surgery can enhance eye alignment, depth perception, and quality of life, particularly when coupled with pre- and post-operative care, including vision therapy and follow-up evaluations for optimal results.
Preparing for Squint Eye Surgery
Squint eye surgery, also known as strabismus surgery, aims to correct misalignment of the eyes. The procedure involves adjusting the eye muscles to align the eyes properly, improving vision and appearance. An ophthalmologist performs the surgery, making precise incisions to reposition muscles and achieve eye alignment. Recovery involves rest and follow-up appointments to monitor progress. Preparing involves understanding the procedure, discussing expectations with the surgeon, arranging post-op care, and ensuring any pre-surgical tests or evaluations are completed. Following instructions and maintaining a positive mindset is essential for a successful outcome and improved eye alignment.
Risk of Squint Eye Surgery
Squint eye surgery, like any surgical procedure, carries inherent risks. Potential complications may include infection, bleeding, scarring, or over/under-correction of eye alignment, affecting vision. There's a small chance of double vision, changes in eye movement, or difficulty focusing. Anesthesia-related risks also exist. Post-surgery, temporary discomfort, redness, or swelling may occur. In rare cases, more serious complications like retinal detachment or persistent double vision may manifest. Properly assessing risks, discussing concerns with the surgeon, following pre-operative instructions, and undergoing thorough evaluations can help minimize these risks and enhance the likelihood of a successful outcome.
FAQs
Q1. What is squint eye surgery?
Ans. Squint eye surgery, also known as strabismus surgery, is a surgical procedure aimed at correcting misalignment of the eyes, where the eyes are not properly aligned and do not work together.
Q2. Who is a suitable candidate for squint eye surgery?
Ans. Candidates for squint eye surgery typically have a persistent misalignment of the eyes (strabismus) that cannot be corrected with non-surgical methods like glasses or vision therapy.
Q3. How is squint eye surgery performed?
Ans. The surgery involves adjusting the eye muscles to align the eyes correctly. Surgeons may either weaken or strengthen specific muscles, depending on the type and direction of the eye misalignment.
Q4. Is squint eye surgery painful?
Ans. The procedure itself is not painful as it's performed under anesthesia. After surgery, there may be some discomfort, but this is usually managed well with pain medication.
Q5. Are there any risks or complications associated with squint eye surgery?
Ans. Like any surgical procedure, squint eye surgery carries risks, including infection, bleeding, scarring, double vision, over-correction or under-correction of the eye alignment, and changes in vision. Your surgeon will discuss potential risks and benefits before the surgery.
Q6. How long does it take to recover from squint eye surgery?
Ans. Recovery time varies from person to person. Typically, you can expect a few weeks for the eyes to heal, during which you may experience redness, swelling, or bruising. Complete recovery may take several months.
Q7. Will I need to wear an eye patch after squint eye surgery?
Ans. An eye patch may be prescribed for a short time after surgery to protect the eyes and aid in healing. However, the use and duration of an eye patch will depend on the specific surgical procedure and your surgeon's recommendations.
Q8. Will I still need glasses or contact lenses after squint eye surgery?
Ans. Squint eye surgery primarily addresses the alignment of the eyes, not refractive errors like nearsightedness or farsightedness. You may still need glasses or contacts for clear vision, especially if you had refractive errors before surgery.