LASIK Laser Eye Surgery in Patiala, Punjab – Get a clear vision with LASIK treatment! Laser-assisted in situ keratomileusis (LASIK) is a perfect alternative to glasses or contact lenses. It is useful for patients facing nearsightedness (myopia), farsightedness (hyperopia), presbyopia, and astigmatism. Those people who have vision issues can opt for a sale LASIK service. Go for the best LASIK surgery in Patiala, Punjab at Garg Eye Hospital Patiala. We are a well-known and NABH accredited Eye hospital with Top LASIK surgeons across India.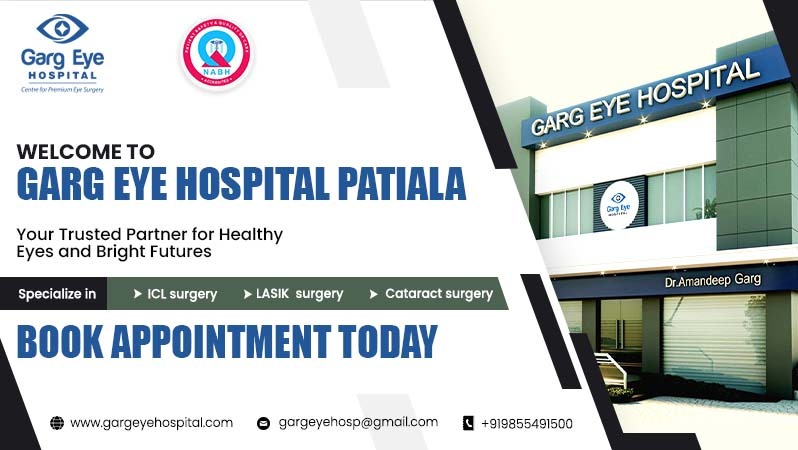 LASIK Surgery Cost in Patiala, Punjab
In Panjab, the price for Lasik eye is good when compared to other states. At Garg Eye Hospital, we offer affordable LASIK cost per eye in Patiala, Nabha, Rajpura etc. The surgery cost around INR 35,000.  We have team of specialized doctors who have the experience and the right knowledge to make it successful. When you invest in eye care at Garg Eye Hospital, you get better returns on your vision. We are genuine and budget-friendly, keeping in mind the requirements of our clients. 
Note: The price may vary depending on the health condition and history of the patient. You can be sure that you will be getting professional treatments. 
What is LASIK Surgery?
LASIK is an eye surgery used to correct refractive vision issues like nearsightedness, farsightedness, and astigmatism. In this procedure, a precise laser reshapes the cornea, the eye's outer layer. This procedure enhances vision without the need for glasses or contact lenses. LASIK is known for its rapid recovery and successful outcomes, making it a common choice for vision correction. For individuals who want LASIK, it is important to learn how it works and the benefits of lasik surgery.
Types of LASIK Laser Eye Surgery That You Can Avail
Several types of LASIK surgery are available to address specific vision needs:
Traditional LASIK: This standard procedure uses a laser to create a corneal flap, followed by reshaping the cornea with an excimer laser to correct refractive errors.
Custom LASIK: Customizes treatment using advanced wavefront technology to map irregularities in the eye, providing personalized corneal reshaping for higher-order aberrations and precise vision correction.
Bladeless LASIK: Utilizes femtosecond laser to create the corneal flap, enhancing safety and accuracy compared to using a microkeratome blade.
PRK (Photorefractive Keratectomy): Similar to LASIK but without creating a corneal flap, making it suitable for patients with thinner corneas; longer recovery time but a good option for certain cases.
LASEK (Laser Epithelial Keratomileusis): Combines elements of PRK and LASIK, involving a thinner epithelial flap; suitable for those with thin corneas or specific conditions.
EpiLASIK: is generally like LASIK, but uses an epithelial separator for creating the flap; suited for individuals with thinner corneas or superficial eye conditions.
Benefits of LASIK Laser Eye Surgery
With the help of LASIK laser eye surgery, individuals can improve their vision without the need for glasses or contacts. This procedure is quick, often taking only minutes per eye, and recovery is usually rapid. Many patients experience improved vision almost immediately. LASIK is also relatively painless, with only minimal discomfort during the healing process. It's a safe procedure, with a low risk of complications when performed by experienced surgeons. Additionally, the results are often long-lasting, reducing the ongoing cost and inconvenience of prescription eyewear. Overall, LASIK can enhance the quality of life by providing clear, unaided vision and increased freedom from corrective lenses.
Conditions That LASIK Treatment Successfully Treat
Nearsightedness (Myopia): the surgery corrects nearsightedness by reshaping the cornea to focus light accurately on the retina. It helps in improving distant vision without glasses or contacts.
Farsightedness (Hyperopia): with the help of the surgery individuals can focus properly on far-away visions, but usually struggles with close-up visions.
Astigmatism: corrects astigmatism by smoothing out irregular corneal shapes, allowing light to focus uniformly on the retina and improving overall visual clarity.
Presbyopia: LASIK treats presbyopia through techniques like monovision, addressing the loss of close-up focus that occurs with age, reducing dependence on reading glasses.
Refractive Errors: the surgery effectively corrects various refractive errors, enhancing visual acuity and reducing dependency on corrective eyewear for improved daily activities and quality of life.
Best LASIK Laser Eye Surgery Hospital in Punjab – Garg Eye Hospital
Garg Eye Hospital, located in Punjab, is a renowned center for LASIK Laser Eye treatment in Patiala and its comprehensive eye care. With a track record of excellence, we offer state-of-the-art facilities and a team of experienced ophthalmologists. The hospital's commitment to patient well-being is evident through personalized treatment plans, utilizing the latest technology to ensure safe and effective outcomes.
Garg Eye Hospital specializes in LASIK surgery, correcting refractive errors like myopia, hyperopia, and astigmatism. Our skilled surgeons and advanced equipment ensure precise corneal reshaping, leading to improved vision and reduced dependence on glasses or contacts.
Beyond LASIK, Garg Eye Hospital provides a wide range of eye care services, including cataract surgery, glaucoma management, retina treatments, and pediatric ophthalmology. Our commitment to quality, compassionate care, and innovative techniques solidifies our reputation as a top choice for LASIK and comprehensive eye care in Punjab.
Find the Patients Reviews 
FAQs Related to LASIK Surgery in Patiala, Punjab
Q1.Who is a good candidate for LASIK surgery?
Ans. A good LASIK candidate has a stable vision prescription, healthy corneas, no eye diseases, and realistic expectations for the outcome.
Q2. What are the risks of LASIK surgery?
Ans. Possible LASIK risks include dry eyes, glare, halos, under-correction/overcorrection, corneal flap complications, infection, and vision changes. Not everyone experiences these risks.
Q3 Is LASIK surgery covered by insurance?
Ans. LASIK is usually considered an elective procedure and isn't covered by standard health insurance, as it's often deemed cosmetic. 
Q4. What are the alternatives to LASIK surgery?
Ans. Alternative vision correction options include PRK, SMILE, implantable lenses, and corrective eyewear (glasses, contact lenses) for various refractive conditions.
Q5. What should I expect after LASIK surgery?
Ans. After LASIK surgery, expect improved vision, possible discomfort, dry eyes, and sensitivity. Follow post-op instructions, and attend follow-ups for optimal recovery.