Cataract Surgery in Patiala, Punjab – In Punjab, there are higher chances of cataracts (Motiyabind) which is an opaque or cloudy area on the eye lens. An estimated 15% of people aged 30 and older is the prevalence rate which means a higher risk of blindness. To prevent it, you need the best Cataract surgery in Patiala, Punjab. Garg Eye Hospital is the best eye facility offering lens replacement surgery i.e. cataract treatment. With the help of experienced and skilled eye doctors, we will safely remove the affected natural lens (also called the "crystalline lens"). For this, we have been using the best quality artificial intraocular lens (IOL) that lasts longer and is suitable for all age groups.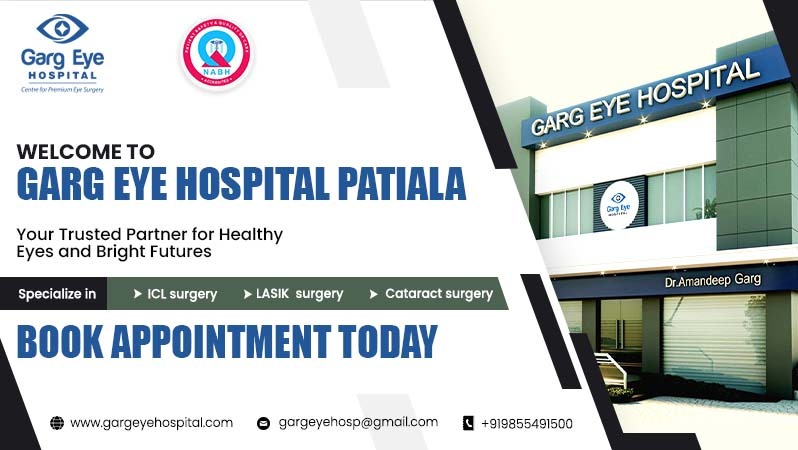 Cost of Cataract Surgery in Patiala – Garg Eye Hospital
At Garg Eye Hospital, it is our goal to ensure that our clients get world-class eye treatment without burning a hole in their pockets. We have affordable cataract surgery charges Patiala where the best cataract surgeon will perform the treatment. Whether you have cataracts in one eye or both eyes, our cataract hospital services the needs of people across Patiala, Nabha, Ludhiana, etc.
The cataract surgery price in Patiala can go anywhere from INR 10,000 to 1 Lacs. The price also depends upon the age, eye condition, and overall health condition of the patient. We want to ensure that our treatment provides the best especially for patients with diabetes, old age, etc.
Cataract – What is it? Why Does it Happen?
In Punjab 1 in 4 people aged 50 and older will have cataracts. It is very common but should not e taken lightly.  Your eye lens needs light onto the retina at the back of the eye. This allows you to see clearly without any obstruction.  A cataract is a condition where the naturally clear lens is fogged or cloudy. This happens when the proteins in the lens start to lump together. This forms a cloud-like appearance on the eye, making the vision blur. This is very common in old age and aging people due to factors playing a part in it. Prolonged and untreated cataracts in the eye can lead to blindness and other vision problems.
The major Causes of Cataract are:
Genetics
Eye injuries or Trauma
Excessive Sun Exposure
Certain Medications (Like corticosteroids, contribute to cataract development.)
Medical Conditions (like diabetes, hypertension etc.)
Lens replacement surgery or Cataract surgery is a common medical procedure that involves removing a clouded lens from the eye and replacing it with an artificial, clear lens. During surgery, a surgeon makes a small incision, breaks up the cloudy lens using ultrasound or laser ad removes the fragments.
Why Treating Cataracts is Important for Your Vision?
The leading cause of blindness in India is Cataracts/Motiyabind. If you go by the stats of 15.3% population facing it in Punjab then that's a lakhs of people facing it. This can cause a number of issues for you that will be lifelong affecting. These are listed below:
Blurr vision with Reduced color perception: The cloudy cataract on your eye can cause incoming light to the lens to scatter and distort. This also means you won't be able to differentiate between colors because they may appear added – less vibrant for you to recognize.
Sensitivity to Glare/Low Light: Any bright light, flashing headlight or sunlight, or any other light source can be sensitizing your vision overall. You will experience increasing sensitivity, especially at night or in a dimly lit environment.
Difficult Vision: People with cataracts face issues like double vision and frequent changes in their optometrist's prescription. You will need to change eyeglasses or contact lenses more often as cataracts cause different vision in one eye or in certain lighting conditions.
Types of Cataracts That Might Be Facing
Anyone can form any of the following cataracts at any stage of life. These are discussed as follows:
Nuclear Cataract: Commonly seen in people over the age of 50, This cataract forms at the center (nucleus) of the lens. This causes nearsightedness and yellowing or browning of the lens, affecting color perception.
Cortical Cataract: The cataracts form in the lens cortex (the outer part of the lens that surrounds the nuclei). As they progress, this causes glare, difficulties with contrast, and changes in vision.
Subcapsular Cataract: Cataracts form directly beneath the lens capsule and at the back of the lens causing Posterior Subcapsular Cataracts (affecting younger individuals)  or Anterior Subcapsular Cataracts (causes by medications).
Congenital Cataract: Causes due to genetics, infections or developmental issues during pregnancy causing cataracts at birth or developing during infancy.
Traumatic Cataract: This is a result of eye injuries or trauma which can be seen immediately or develop in a few years.
Secondary Cataract (Posterior Capsule Opacification): Also called, "after-cataract", this condition happens after a some times when the posterior lens capsule that holds the artificial intraocular lens (IOL) in place becomes cloudy.
Radiation Cataract: Caused by prolonged exposure to certain types of radiation, such as radiation therapy for cancer.
Diabetic Cataract: Diaetic patients are higher at risk of developing it.  These cataracts are often classified by their specific characteristics, such as cortical or subcapsular.
Age-Related Cataract: One naturally develops cataracts as part of the aging process.
Different Cataract Surgery & Treatments Options
Looking at the different types of cataracts and reliability criteria, one can be suggested a treatment that is perfect for their overall health and eye condition. These procedures are developed in a way to meet patients' specific needs in accordance with their condition.
Manual Small Incision Cataract Surgery (MSICS): Similar to ECCE, it is performed manually using a smaller incision.
Femtosecond Laser-Assisted Cataract Surgery: It is used to create precise incisions and assist in breaking up the cataract.
Laser-Assisted Cataract Surgery with Image Guidance: A perfect combination of femtosecond laser technology with real-time image guidance. This allows improved incisions and lens positioning.
Intracapsular Cataract Extraction: This involves removing both the lens and the lens capsule.
Your cataract eye doctor in Pataila will suggest the best treatment for you after carefully understanding your medical history and condition. This is discussed below.
Criteria for Cataract Surgery: Am I a Candidate?
For a successful and safe eye surgery, you will need t meet some factors for being eligible for this surgery. For this, an eye examination will be performed by your ophthalmologists to ensure professional care. These are as follows:
Peple with blurred vision or significant visual impairment are eligible as their vision can be restored via cataract surgery. These include glare, difficulty in reading, night vision, etc.
When vision cannot be corrected using lenses, this affects how clearly you can see (visual acuity) which effects your ability to perform even the simplest tasks. In this case, you will be recommended surgery.
Overall eye health – cornea, retina, and other structures – should be in acceptable health. This is to ensure that it is safe and potentially reap positive results with no complications.
Your medical history is a major factor. The doctor will go through your medical reports and then only suggest it. Total evaluation will be performed.
The stability of your optometrist prescription is essential. Having a stable prescription is a good sign as this could influence the timing of the surgery.
Though the ultimate decision is yours, the eye doctor for cataract treatment will thoroughly discuss the potential. This also means letting you know the outcomes and the realistic expectations from this surgery.
Note: Cataract treatments are successful treatments but there are chances that it might not restore perfect vision or eliminate the need for glasses entirely.
Realistic Expectations: It's important to have realistic expectations about the outcomes of cataract surgery. While the surgery is highly successful in improving vision for most patients, it might not restore perfect vision or eliminate the need for glasses entirely.
Patient Preference: Ultimately, the decision to undergo cataract surgery is a collaborative one between you and your eye care professional. Your preferences and lifestyle factors should be taken into account when determining your eligibility.
Best Hospital For Cataract Surgery In India – Garg Eye Hospital
Treat Motiyabind or Cataract at Garg Eye Hospital – a trusted name in the eye care facility in Punjab. We have years of experience and have performed successful surgeries throughout the years. Our eye doctors have the right knowledge and skills to offer the best solution for Motiyabind. Our hospital specialized in Cataract treatments for all ages. We are some of the few cataract hospitals in Patiala to offer cataract surgery for children. Our staff understands your needs and works tirelessly to bring back your clear vision. We are certified with NABH and have always followed strict quality to safety standards for our patients.
Connect now to know more about our cataract treatment in Patiala!