Glaucoma Treatment in Patiala, Punjab –  Glaucoma is a dangerous eye ailment that, if left untreated, can result in irreversible vision loss. It is distinguished by elevated intraocular pressure, which can damage the optic nerve and result in vision impairment or blindness. Get access to effective glaucoma therapy and care for maintaining eyesight and increasing the quality of life. We provide Glaucoma treatment in the Punjab cities of Patiala, Rajpura, Nabha, and Ludhiana.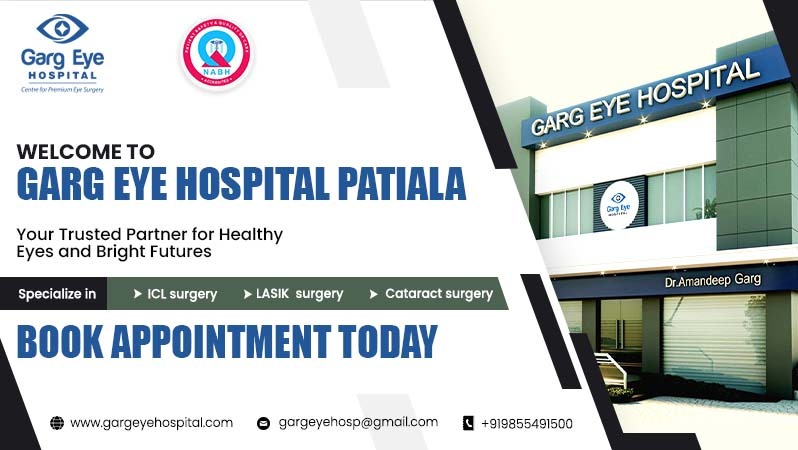 Best Glaucoma Eye Surgery in Patiala at Garg Eye Hospital
Garg Eye Hospital plays a vital role in providing specialized care for individuals suffering from glaucoma. Equipped with state-of-the-art technology and a team of skilled ophthalmologists. Garg Eye Hospital offers comprehensive glaucoma evaluation, diagnosis, and advanced treatment options.
The hospital's approach to glaucoma treatment in Patiala, Rajpura, Nabha, and Ludhiana is multidimensional. It begins with thorough eye examinations to accurately diagnose the condition and assess its severity. Early detection is critical in managing glaucoma effectively and preventing further deterioration of vision.
Diagnosis and Evaluation of Glaucoma
Glaucoma examination typically involves measuring the intraocular pressure (IOP), examining the optic nerve, evaluating the visual field, and assessing the angle of the eye. These assessments help determine the type and stage of glaucoma a patient might have, such as primary open-angle glaucoma or angle-closure glaucoma.
Once a precise diagnosis is established, the ophthalmologists at Garg Eye Hospital devise a personalized treatment plan for each patient, considering factors like the stage of the disease, the patient's age, medical history, and overall health.
Glaucoma Treatment Cost in Patiala
Garg Eye Hospital offers glaucoma treatment fees based on the severity of the condition, treatment type, and the personalized care required. Consultation fees for glaucoma evaluation typically range from INR 1000 to INR 25000. Further treatment costs, including medications, laser therapy, or surgical interventions, will be discussed during the consultation based on the recommended course of action. Patients are encouraged to inquire about specific fees during their appointment at Garg Eye Hospital for accurate pricing details.
Treatment Options for Glaucoma Patients
Garg Eye Hospital offers a range of glaucoma treatment options, aiming to control the intraocular pressure and slow down the progression of the disease. These treatments include:
Medications: Eye drops or oral medications can help lower intraocular pressure by reducing the production of aqueous humor (the fluid inside the eye) or improving its drainage.
Laser Therapy: Procedures like selective laser trabeculoplasty (SLT) or laser peripheral iridotomy (LPI) can aid in improving the drainage of fluid from the eye, thereby reducing intraocular pressure.
Surgery: In cases where medications and laser therapy are insufficient, surgical interventions like trabeculectomy, minimally invasive glaucoma surgery (MIGS), or glaucoma drainage implants might be recommended to enhance fluid drainage from the eye.
Follow-up and Monitoring: Regular follow-up appointments at Garg Eye Hospital are crucial to monitor the progress of the treatment, adjust medications, and make necessary changes to the treatment plan as needed.
Patient Education and Awareness
Apart from providing glaucoma treatment, Garg Eye Hospital emphasizes patient education and awareness regarding glaucoma and its management. Educational programs, workshops, and awareness campaigns are conducted to educate the community about the importance of regular eye check-ups and early detection of glaucoma.
Collaborative Efforts
Collaborations between Garg Eye Hospital and local healthcare organizations, community centers, and government bodies are essential to ensure a holistic approach to glaucoma management. This collaboration facilitates the sharing of resources, knowledge, and expertise to reach a broader segment of the population and provide adequate care and support to glaucoma patients.
Glaucoma treatment in Patiala, Rajpura, Nabha, and Ludhiana, Punjab, is significantly enhanced by the presence of Garg Eye Hospital, a leading healthcare institution dedicated to providing advanced glaucoma care. Through a multidimensional approach, encompassing accurate diagnosis, personalized treatment plans, patient education, and collaborative efforts, Garg Eye Hospital strives to mitigate the impact of glaucoma and preserve the vision for affected individuals in the region. Regular eye check-ups and proactive management remain key in the battle against glaucoma, ultimately contributing to a better quality of life for those affected by this condition.